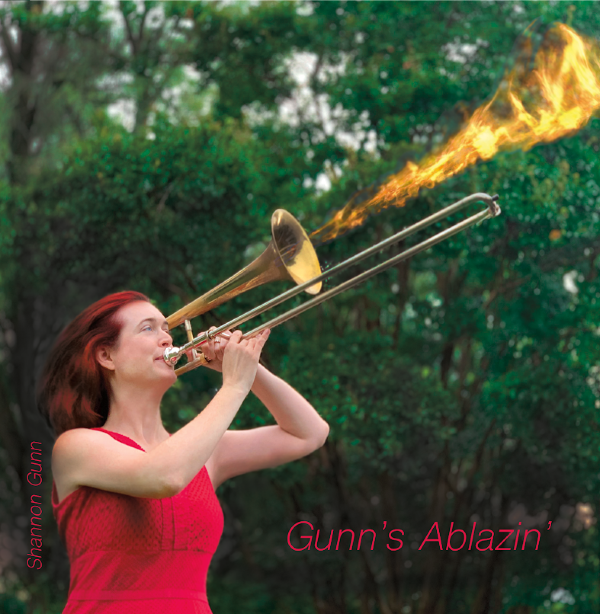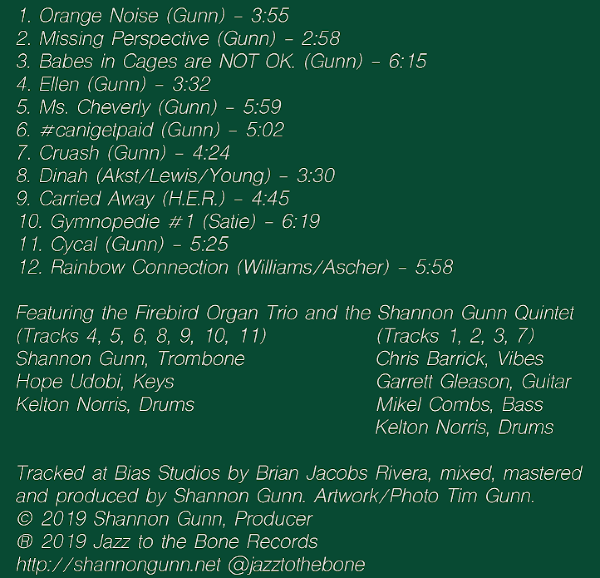 Shannon Gunn will release her sixth album as a leader, and second album as a solo artist on Sunday, August 4th. The album, which tells a story and celebrates her writing, will feature two ensembles, recorded on two separate dates at BIAS studios by Brian Rivera (mixed, mastered, and produced by Shannon Gunn):
Firebird Organ Trio featuring Hope Udobi on Keys and Kelton Norris on Drums
Shannon Gunn Quintet featuring Chris Barrick on vibes, Garret Gleason on guitar, Mikel Combs on bass, and Kelton Norris on drums.
If you listen to the album in track order, each song tells a story. Read below for the stories behind the songs!
Orange Noise: This is the second song in my two song presidential suite. Dedicated to all the lies on Twitter. So orange! [SG Quintet]
Missing Perspective: This song was inspired Kara Walker's "Harper's Pictorial History of the Civil War (Annotated)" exhibit. It aims to bring to light the missing perspectives in the history books, especially in the United States. [SG Quintet]
Babes in Cages are NOT OK. This is my protest song. It is absolutely unacceptable that kids are being separated from their parents at the border. It's still happening, through smoke and mirrors, at the behest of the US government tax dollars. https://www.newyorker.com/news/news-desk/the-five-year-old-who-was-detained-at-the-border-and-convinced-to-sign-away-her-rights [SG Quintet]
Ellen: This is my jazz hugs song, designed to be listened to after you hear Babes in Cages. Written as a gift for (and inspired by) my friend Ellen, isn't she wonderful? [Firebird Organ Trio]
Ms. Cheverly: I was listening back to one of my live shows, and heard this very overt group of cat-callers and whistlers in the back of the room. I realized this was the mother of my good friend, Amy K. Bormet, with all her comrades, and she deserved a song for all her support of Women in Jazz. This one is for Alice in Cheverly! (Maryland) [Firebird Organ Trio]
#canigetpaid: Yes, the song title is a hashtag, and yes, it's dedicated to Adams Morgan. Sweet, then angry. [Firebird Organ Trio]
Cruash: When you crash into a crush, or crush into a crash. (They don't teach you that in school!) [SG Quintet]
Dinah: Seattle Grunge meets DC Go Go in this 1926 classic, Dinah – performed as you've never heard it before. [SG Quintet]
Carried Away: In the effort to make jazz relevant again, this is a cover of a popular tune by the artist H.E.R. Gotta get those streams up! [Firebird Organ Trio]
Gymnopedie #1: This is a cover of a classical song from 1888 by Erik Satie. Often played by beginning pianists, I love the overlapping phrases, odd harmonic structure, and potential for synergy within the harmony. A Firebird classic. [Firebird Organ Trio]
Cycal: This is a tune I wrote as a gift for my Father in 2012. His name is Calvin, and he is an avid cyclist, thus the nickname Cycal. He has biked across the country twice! Ocean to ocean! This tune flips between a double time swing feel and funk, and depicts the ups and downs of the hills while biking. [Firebird Organ Trio]
Rainbow Connection: I wrote this arrangement of the tune, made popular by Kermit the Frog in the early 1980s, directly after Aretha Franklin's passing. Her music inspired so many, and she was absolutely amazing! [Firebird Organ Trio]
I hope you enjoy each tune! Coming soon! I'll add audio clips once I get them up.