Gunn's Ablazin' new album out now available on all streaming services! This album features the Firebird Organ Trio and the Shannon Gunn Quintet. Please stream and download it today! Liner Notes below!
Apple iTunes: https://music.apple.com/us/album/gunns-ablazin/1475384300
Amazon Music: https://www.amazon.com/dp/B07VZ99781/ref=sr_1_1?keywords=shannon+gunn&qid=1564931720&s=dmusic&sr=1-1
Tidal: https://tidal.com/album/114735489
Spotify coming soon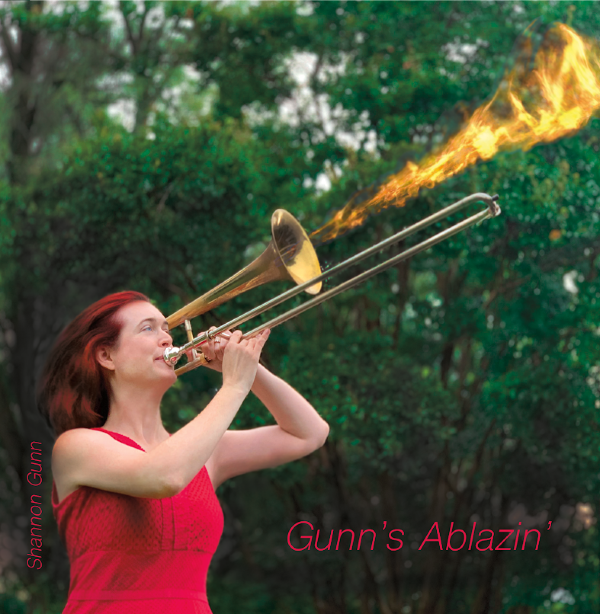 Liner notes:
1. Orange Noise: This is the second song in my two song presidential suite. Dedicated to all the lies on Twitter. So orange! [SG Quintet]
2. Missing Perspective: This song was inspired Kara Walker's "Harper's Pictorial History of the Civil War (Annotated)" exhibit. It aims to bring to light the missing perspectives in the history books. [SG Quintet]
3. Babes in Cages are NOT OK. This is my protest song, children are still being separated from their parents, through smoke and mirrors, at the behest of the US government tax dollars. [SG Quintet]
4. Ellen: Written as a gift for (and inspired by) my friend Ellen, jazz hugs! [Firebird Organ Trio]
5. Ms. Cheverly: inspired by the mother of my good friend, Amy K. Bormet, for her unwavering support of women in jazz. This one is for Alice in Cheverly! (Maryland) [Firebird Organ Trio]
6. #canigetpaid: The song title is a hashtag, and it's dedicated to Adams Morgan. [Firebird Organ Trio]
7. Cruash: When you crash into a crush, or crush into a crash. [SG Quintet]
8. Dinah: Seattle Grunge meets DC Go Go in this 1926 classic, Dinah – performed as you've never heard it before. [SG Quintet]
9. Carried Away: In the effort to make jazz relevant again, this is a cover of a popular tune by the artist H.E.R. Gotta get those streams up! [Firebird Organ Trio]
10. Gymnopedie #1: This is a cover of a classical song from 1888 by Erik Satie. [Firebird Organ Trio]
11. Cycal: This is a tune I wrote as a gift for my Father. His name is Calvin, and he is an avid cyclist, thus the nickname Cycal. He has biked across the country twice! The song simulates going up and down the hills on a bicycle. [Firebird Organ Trio]
12. Rainbow Connection: this arrangement was inspired by the passing of Aretha Franklin. [Firebird Organ Trio]
I hope you enjoy each tune!